Stainless Steel Illusion
By Robert Lamm
This book is easily on of the best books ever produced with regard to the DeLorean Automobile. Lots and lots and lots of pictures and excellent inside information. It is also one of the hardest books to get your hands on, often selling for hundreds of dollars. Unlike most other "De Lorean Books" floating around out there, this books primary focus is on the De Lorean Automobile, not the De Lorean Man. Where other books contain a scant few pages of black and white pictures, there are virtually pictures on every page of this book (sample below). GO TO YOUR LOCAL LIBRARY AND CHECK IT OUT TODAY!
Front Cover:
De Lorean
Stainless Steel Illusion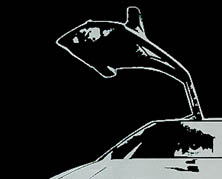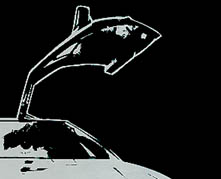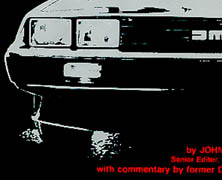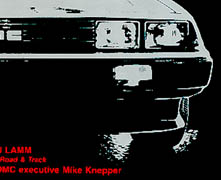 From the inside front flap
Exploring the eight year history of the De Lorean Motor Company (DMC) is like reading a fairy tale. Except this tail ends in a broken dream instead of happiness, with the hero carted off to face a possible jail sentence. With the hopes of 2600 Irish workers crushed, with a shaken British government staring at losses that may easily exceed 70 million pounds. How did it happen? What went so wrong so fast after being so incandescently right?
What is clear is the step-by-step look at the incredible effort involved in bringing a car to the marketplace, and the extraordinary skill of John De Lorean in bringing together and motivating a highly talented band of engineers, marketers, and financial experts. Included are such tidbits as master stylist Giorgette Giuguaro's sketches on Polaroid's of the full scale plaster mock-up, showing various window treatments. There's a comparison with the inspiration for it all, the Mercedes-Benz 300 SL gullwing, and even a brief look at Malcolm Bricklin, whose tent was folding as De Lorean's star was rising.
Played against the main story line - the De Lorean Sports Car's transformation from Allstate Insurance safety vehicle to rear-engine version of the exotic Lotus Esprit - is a personal look at the people inside the De Lorean executive suite through the eyes of former DMC PR Director Mike Knepper, who worked and traveled with De Lorean for 18 months prior to the layoffs of March, 1982. Against the bewildering turn of events which saw De Lorean arrested for allegedly financing a cocaine deal in an attempt to raise money to keep his company afloat, psychologist Dr. Keith Golay offers a penetrating insight into the De Lorean personality which led him, almost inevitably, down this path.
While much of the De Lorean financial history and money-making efforts are shifting and elusive (as the bankrupt company's creditors are learning to their dismay as they attempt to determine which corporate shell the peas is under) the factory in Northern Ireland is stone, mortar and steel - not the stuff of illusion. Proudly built by local Belfast firms, the five buildings which house a Star Wars-style assembly line were a symbol of re-birth. But like their great-grandfathers who carved out the invincible Titanic seventy years ago, the workers of Belfast now see the DMC plant going under, ripped open by forces as powerful, unseen and unpredictable as a cruel and silent iceberg.
This, then, is the story of the De Lorean Motor Company. Story of a dream come true, story of a dream broken, story of success, story of tragedy.
De Lorean Sports Car Chronology (Pg. 21)
Miscellaneous Pictures
1974
JXD Inc. formed (1-1-74)

Composite Technology formed

DMC formed (10-24-74)
Bill Collins signs on
Allstate Insurance agreement
De Lorean Manufacturing C. formed


1 of 12 treated mockup pics from Ital Design
Pgs 32-33


Johnny Carson looking over the prototype
Pg. 50


Could have been the DMC?
Pg. 57


The Prototype!
Pg. 60


Awesome Color cut-away
Pg. 114

1975

Ital Design Contracted

Ital Design finishes model

"Red Rocket" finished
1st prototype started
Bricklin out of business
Sports Car Partnership opens (12-31-75)

1976


Citroen engine decision
1st prototype rollout


1977
Stock offering to dealers filed
Prototype debut in New Orleans

158 dealers signed up (10-31-77)
Partnership traded for stock

2nd prototype rollout

1978

Agreement with Northern Ireland (7-28-78)

Research Partnership opens (9-22-78)
Group Lotus contracted

~~~~~~~~~~~~
1981
1st production car built (1-21-81)

Press junket to Belfast

1st cars arrive in U.S.

Eugene Cafiero resigns
Production doubled
DMC of America formed

1982
Britain refuses more finance (1-29-82)
DMC Ltd. in receivership (2-19-82)
B of A calls in loan (3-4-82)
C.R. Brown fired (3-8-82)
Consolidated buys 1391 cars
Factory shut down (5-31-82)
De Lorean arrested (10-19-82)
British receivers end DMC Ltd.
DMC files bankruptcy (10-25-82)
Consolidated buys remaining cars
Last car manufactured (12-24-82)
This page last modified on Tuesday, April 08, 2008