ere for the first time is the inside story
of the life and times of John DeLorean,
one of America's most visible and controver-
sial business figures. William Haddad - a poli-
tician, businessman and award winning
investigative journalist - worked with DeLorean
for fifteen years as a consultant and eventu-
ally a top executive of DeLorean's ill-fated
sports car company. In Hard Driving he draws
on his skills as a reporter and on firsthand
insights to paint an absorbing, often disturbing
portrait of DeLorean and of how American
big business operates.
Haddad has amassed a wealth of detail
about DeLorean's career. But this is not a dis-
passionate biography. Haddad, once a strong
admirer of DeLorean's, became disillusioned
and later outraged by what he learned about
the automaker in episodes described in this
book. He reveals the DeLorean business
style: his use of "black books" to intimidate
associates, beginning with top officials at
General Motors, and his treatment of negotiat-
ing partners from the governments of Puerto
Rico and Ireland, in settings from the Waldorf
to Whitehall. The technique often involved
last-minute demands and complex double-
deals. Haddad also tells of DeLorean's wild
political notions, such as plans for a world-
wide intelligence network and a plan, seri-
ously presented to a senior White House aide,
for a takeover of Saudi oil fields. In graphic
detail he shows how DeLorean ran his sports
car company until it went bust, apparently
using little of his own money to raise about
$250 Million, which he has since lost.
This story ranges from the scandalous to
the hilarious as it recounts DeLorean's activi-
ties in boardrooms and salons. What emerges
is a picture of a man with a kind of manic
genius that is ultimately as self-destructive as
it was hurtful to those around him. After read-
ing Hard Driving, Americans will finally under-
stand why John DeLorean' keeps getting into
so much trouble.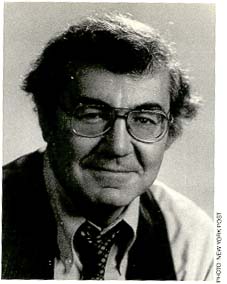 William Haddad has had careers in business,
journalism, government, education and poli-
tics. He worked as an investigative reporter for
the New York Post and the New York Herald-
Tribune, winning a dozen awards, mostly for
exposés of political corruption, and was direc-
tor of the New York State Assembly's Office of
Legislative Oversight and Investigation. In pol-
itics, Mr. Haddad served as special assistant
to the late Senators Estes Kefauver of Tennes-
see and Robert Kennedy of New York, and
has been the political advisor or campaign
manager for several campaigns in the United
States and Puerto Rico. In 1982 he was the
campaign manager for Lieutenant Governor
Mario Cuomo in his successful campaign for
the governorship. Mr. Haddad is currently
chief executive and vice chairman of Danbury
Pharmacal, a pharmaceutical company. He
is married and has five children.
Jacket photograph: ©1984 Tony Bullard/Gamma-Liaison
Jacket Design: George Corsillo
Random House, INC., New York, N.Y. 10022
Printed in the U.S.A. 10/85
© 1985 Random House, Inc.